U Bolt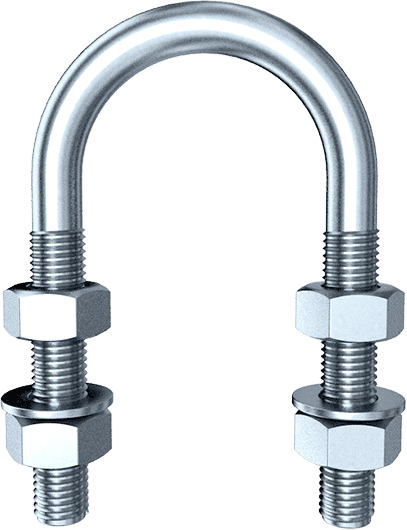 Carbon steel
Stainless steel
UNI 5737 – DIN 931 – IS0 4014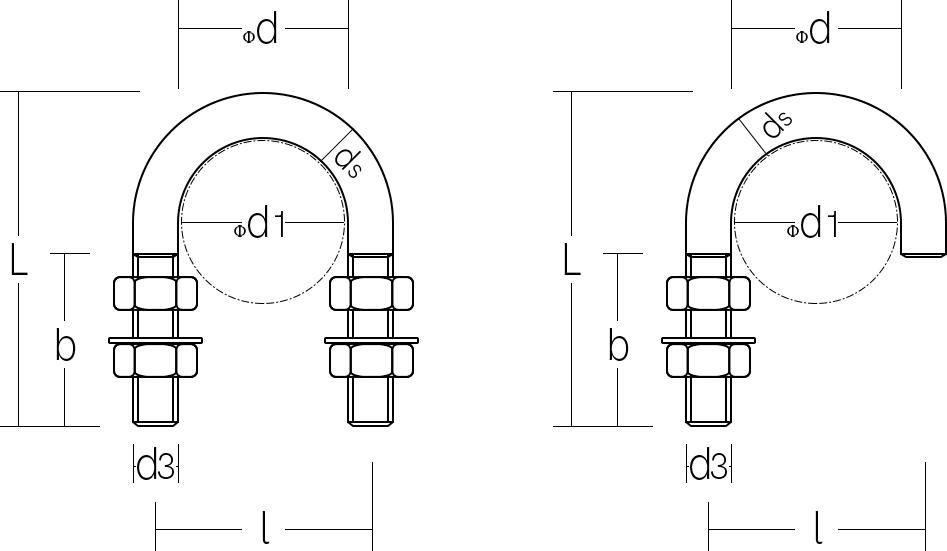 size
| | | | | |
| --- | --- | --- | --- | --- |
| d | 30 | 38 | 46 | 52 |
| d1 | 25-26.9 | 30-33.7 | 38-42.4 | 44.5-48.3 |
| b | 40 | 40 | 50 | 50 |
| ds | 10 | 10 | 10 | 10 |
| d3 | M10 | M10 | M10 | M10 |
| L | 70 | 76 | 86 | 92 |
| L1 | 28 | 31 | 37 | 40 |
| n | 40 | 48 | 56 | 62 |
| | | | | |
| --- | --- | --- | --- | --- |
| 64 | 82 | 94 | 120 | 148 |
| 57-60.3 | 76.1 | 88.9 | 108-114.3 | 133-139.7 |
| 50 | 50 | 50 | 60 | 60 |
| 12 | 12 | 12 | 16 | 16 |
| M12 | M12 | M12 | M16 | M16 |
| 109 | 125 | 138 | – | – |
| 49 | 57 | 66 | 171 | 191 |
| 76 | 94 | 106 | 136 | 164 |
| | | | | |
| --- | --- | --- | --- | --- |
| 176 | 202 | 228 | 282 | 332 |
| 159-168.3 | 191-193.7 | 216-219.7 | 267-273 | 318-323.9 |
| 60 | 60 | 70 | 70 | 70 |
| 16 | 16 | 20 | 20 | 20 |
| M16 | M16 | M20 | M20 | M20 |
| – | – | – | – | – |
| 217 | 249 | 283 | 334 | 385 |
| 192 | 218 | 248 | 302 | 352 |
| | | |
| --- | --- | --- |
| 378 | 428 | 530 |
| 355.6-368 | 406.4-419 | 508-521 |
| 70 | 70 | 70 |
| 24 | 24 | 24 |
| M24 | M24 | M24 |
| – | – | – |
| 435 | 487 | 589 |
| 402 | 452 | 554 |
Size comparison table
| | | | | |
| --- | --- | --- | --- | --- |
| Thread Size | M3 | 5# | 1/8" | M4 |
| Diameter | 3 | 3.175 | 3.175 | 4 |
| UNC | - | 40 | 40 | - |
| UNF | - | 44 | 44 | - |
| Coarse Pitch | 0.5 | 0.635 | 0.635 | 0.7 |
| Fine Pitch | 0.35 | 0.5773 | 0.5773 | 0.5 |
| | | | | | |
| --- | --- | --- | --- | --- | --- |
| #8 | 3/16" | 10# | M5 | M6 | 1/4" |
| 4.1656 | 4.7625 | 4.826 | 5 | 6 | 6.35 |
| 32 | 24 | 24 | - | - | 20 |
| 36 | 32 | 32 | - | 6 | 28 |
| 0.7938 | 1.0583 | 1.0583 | 0.8 | 1 | 1.27 |
| 0.7056 | 0.7938 | 0.7938 | 0.5 | 0.5 | 0.9071 |
| | | | | | |
| --- | --- | --- | --- | --- | --- |
| 1/4" | 5/16" | 5/16" | M8 | 3/8" | 3/8" |
| 6.35 | 7.9375 | 7.9375 | 8 | 9.525 | 9.525 |
| 20 | 18 | 18 | - | 16 | 16 |
| 26 | 24 | 22 | - | 24 | 20 |
| 1.27 | 1.4111 | 1.4111 | 1.25 | 1.5875 | 1.5875 |
| 0.9769 | 1.0583 | 1.1545 | 1 | 1.0583 | 1.27 |
| | | | | | |
| --- | --- | --- | --- | --- | --- |
| M10 | 7/16" | 7/16" | M12 | 1/2" | 1/2" |
| 10 | 11.1125 | 11.1125 | 12 | 12.7 | 12.7 |
| - | 14 | 14 | - | 13 | 13 |
| - | 20 | 18 | - | 20 | 18 |
| 1.5 | 1.8143 | 1.8143 | 1.75 | 1.9538 | 1.9538 |
| 1 | 1.27 | 1.4111 | 1.5/1 | 1.27 | 1.4111 |
| | | | | | |
| --- | --- | --- | --- | --- | --- |
| M14 | 9/16" | 9/16" | 5/8" | 5/8" | M16 |
| 14 | 14.2875 | 14.2875 | 15.875 | 15.875 | 16 |
| - | 12 | 12 | 11 | 11 | - |
| - | 18 | 16 | 18 | 14 | - |
| 2 | 2.1167 | 2.1167 | 2.3091 | 2.3091 | 2 |
| 1.5 | 1.4111 | 1.5875 | 1.4111 | 1.8143 | 1.5 |
| | | | | | |
| --- | --- | --- | --- | --- | --- |
| M18 | 3/4" | 3/4" | M20 | M22 | 7/8" |
| 18 | 19.05 | 19.05 | 20 | 22 | 22.225 |
| - | 10 | 10 | - | - | 9 |
| - | 16 | 16 | - | - | 14 |
| 2.5 | 2.54 | 2.54 | 2.5 | 2.5 | 2.8222 |
| 2 | 1.5875 | 1.5875 | 2/1.5 | 2 | 1.8143 |
7/8"
M24
1"
1"
22.225
24
25.4
25.4
9
-
8
8
11
-
12
10
2.8222
3
3.175
3.175
2.3091
2/1.5
1.1167
2.54
Packaging & Shipping
About delivery
Generally Speaking, delivery time for the U Bolt is 7-15 days, because we have stocks in ready and for special sizes or surface or grade, we can finish the production within 20 days.
Packaging details
1.Regular packing:Bulk in bag (25kg/50kg), bulk in carton (20kg/25kg).
2.For large orders, we can design specific sizes of boxes and cartons.
3.Can provide special packings as clients requests.
FAQ
Q: What is the MOQ for U Bolts ?
A: Our screw MOQ is usually 1 ton per size.
Q: Can we print our own logo on packaging or U Bolts?
A: Yes, packing and U Bolts we can make according to your requirements.
Q: How long is the delivery time for U Bolt?
A: Generally it is 5-10 days if the goods are in stock. or it is 15-20 days if the goods are not in stock, it is according to quantity.
Q: What is your payment term?
A: Generally, 30% T/T in advance ,balance before shippment or against B/L copy.
Q: Are you trading company or U Bolt manufacturer?
A: We are direct U Bolt manufacturer, who owns production lines and workers. No need to worry about extra charges by the middle man or trader.